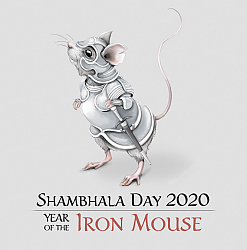 Shambhala Day 2020
Shambhala Day marks the beginning of the New Year and represents one of the most important cultural traditions in Shambhala. The day is calculated astrologically according to the Tibetan lunar calendar and changes every year to coincide with the annual lunar cycle.
Shambhala Day is a time for us to express the wealth and richness of our spiritual and cultural heritage through feasting, conviviality, elegance and pomp. Everyone is warmly invited to celebrate Shambhala Day at the West Loop Center.
Schedule Highlights
6:00 AM Doors Open for Meditation
6:15 AM Assemble in Shrine Room for Kyudo, "First Shot" or the ritual of "hatsuya," the shooting of the New Year's first arrow. (Kyudo, meditative archery, is a heart-cleansing practice, as Shibata Sensei XX explained. The emphasis is on the form one takes in the manner of shooting and the qualities of mind that are experienced in the process. He said that hitting the target is good and not hitting the target is good.)
7:00 AM Breakfast and Conviviality (some food will also be available through the morning)
9:00 AM Community Practice: Elixir of Life Sadhana,
New Member Ceremony with Pins, Community updates.
11:30 AM. Refreshment Break
12:00 PM Worldwide roll-call, International Simulcast