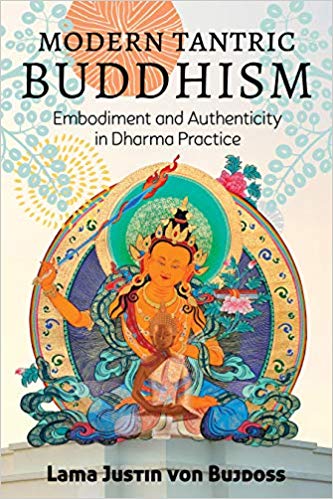 Excoriating the Demons of Whiteness

Excoriating the demons of Whiteness: addressing the 4 devils in Chöd as a means to interrogating bias and unleashing liberation.

Dharma practice helps to release us from the various habitual tendencies that create our own suffering and also aids us in better understanding how we contribute to the suffering of others. In this dharma talk Lama Justin will offer a teaching on the 4 devils found in Chöd practice and how developing a better understanding of the 4 devils aids us in taking responsibility for our unconscious bias and deepening our experience of the moment. He will also offer instruction and transmission for a short practice called: The Fiery Tigle of Tröma Ngakmo: A Daily Practice of Instantaneous Severance, aimed at freeing us from the patterning of our bias and the impact that it has on others.
Join us to celebrate the publication of Modern Tantric Buddhism: Embodiment and Authenticity in Dharma Practice by Lama Justin von Bujdoss. There will be a presentation by the author, followed by a Q&A and signing. Donations of any amount will be appreciated.
Book Description:
Today, a new generation of Buddhists searches for ways to adopt Vajrayana while staying true to its historical legacy. Modern Tantric Buddhism unpacks the principles and applications of this esoteric practice in an accessible and meaningful manner, connecting its roots to a socially engaged, modern-day dharma. Taking a traditional Tibetan pedagogical approach, Lama Justin von Bujdoss divides the book into three thematic sections: Body, as it applies to physicality and embodiment; Speech, or ethical action; and Mind, the context of awakening. Von Bujdoss challenges assumptions about what it means to be a socially engaged Buddhist, and presents Tantra as an ideal vehicle for critically examining today's most pressing social issues while confronting the structural inequities of patriarchy, sexism, colonialism, and racism within Buddhist institutions.
JUSTIN VON BUJDOSS is an American Buddhist teacher and chaplain. He was ordained as a repa in the Karma Kamstang tradition of Tibetan Buddhism by His Eminence Goshir Gyaltsab Rinpoche in 2011 and given the name Repa Dorje Odzer. Justin is passionate about the preservation of the heart-essence of the tantric Buddhist tradition in a way that meets the needs of, and simultaneously challenges, the modern western way of life. He is committed to the development of a repa tradition rooted in the west and has been working to this end for a number of years.
From 2012 until 2017 Justin served as the resident-lama and executive director of New York Tsurphu Goshir Dharma Center, an urban dharma organization which functioned as an affiliate of Palchen Chosling Monastic Institute, Ralang, Sikkim, India.
Justin is presently the first dedicated Staff Chaplain for the New York City Department of Correction where he provides spiritual support for the 13,000 employees, both uniformed and non-uniformed, who work through out the New York City Corrections system. Part of his work includes developing and implementing meditation programs for officers throughout the NYC jail system in addition to the typical work of ministering DOC staff. In March 2018 Justin was appointed Executive Director of the Division of Chaplaincy and Staff Wellness for New York City Department of Correction and leads all wellness initiatives for the agency.
Justin has also worked as a full-time home hospice chaplain and is trained both in CPE (Clinical Pastoral Education) as well as Buddhist end-of-life practices and spiritual care. Justin has taught on Buddhist end-of-life care and teaches dharma in a variety of settings from monasteries, retreat centers and dharma centers, to hospital didactics, CPE groups and at conferences and museums.