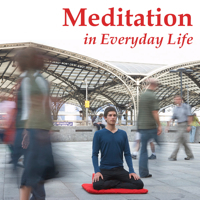 Meditation in Everyday Life ONLINE
with Shastri David Stone & Gretchen Neve
Program Description
Meditation in Everyday Life presents peaceful abiding meditation, basic goodness, and ways that meditation practice can improve the quality of our daily life. By deepening our experience and understanding of ourselves through the practice of meditation, we more fully become who we already are.
This is the first course in our core program, The Way of Shambhala, which provides a strong foundation in mindfulness-awareness meditation. This series is designed to be applied to the complexity of our daily lives, and to develop courage and sanity in these troubled times of uncertainty. The Way of Shambhala series offers a structured path of meditation and an introduction to all that Shambhala offers. It also offers a glimpse of the Shambhala vision of enlightened society by emphasizing the ways in which meditation can impact our daily lives, and from there how the sanity of meditation can expand to impact our whole society.

Both newcomers and those familiar with meditation are welcome.
Suggested reading:
Turning the Mind into an Ally, by Sakyong Mipham
Shambhala: The Sacred Path of the Warrior, by Chögyam Trungpa
Program Discounts
We offer program discounts to make most of our programs available to anyone who wants participate. If the program price is an obstacle for you, please consider what you can afford, and offer as much of the program fee as you can. When you register, mention the amount you can afford to pay in the comments section and make a donation in that amount.
What is the Patron Price?
Those who are able to offer more than the regular program price can select the patron price option. By selecting this option, your generosity is helping to cover the costs of those who may not be able to pay the full price of the program.
Payment Policies