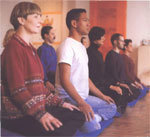 Learn to Meditate ONLINE
If you are new to meditation and would like to try it, this is a class for you! The instructor will walk you through the techniques of meditation and offer practical ways to incorporate it into your life. However, meditation instruction is not just for "new" meditators; repeated instruction is also recommended as part of our ongoing practice.
This program is open to all without regard to payment. (amounts listed are suggested donations only) If you can make a donation to the center, that would be helpful during this time when our doors are closed (but we still have our regular overhead costs). You can also donate at a later time by going to https://chicago.shambhala.org/chicago/donate/. You may also sign up for our newsletter if you wish to be informed about upcoming programs.