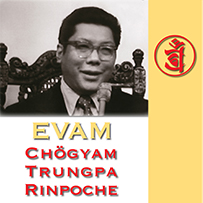 EVAM: Six Talks by Chöygam Trungpa Rinpoche
with Barbara Wolkowitz
Six Video Talks by Chögyam Trungpa Rinpoche on EVAM, What the Buddha Taught Study Group, Alternate Sundays, starting Feb 21, 2021, 1-3pm
Our Sunday Study Group will continue its study of What the Buddha Taught by delving into Chögyam Trungpa Rinpoche's Vajrayana teachings on EVAM. Participants will view and discuss Chögyam Trungpa's six video recordings of talks given in Boulder, CO, in 1976. EVAM represents the unity of the feminine principle of immense wisdom and space and the masculine principle of indestructible skillful means and compassion.
This is an exciting chance for students to experience Chögyam Trungpa's teachings the way they were originally presented and an opportunity for new students to join the study group. Recommended for students having several months of experience with meditation or Buddhist Studies. For more information, contact [email protected]
Zoom link provided upon registration.