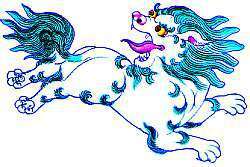 Way of Shambhala: Joy in Everyday Life
with Barbara Wolkowitz & Margaret James
Prerequisites

None, though we strongly recommend taking Contentment in Everyday Life prior to this course.
Class Description

Joy in Everyday Life begins to impart the noble heart of the Mahayana teachings - opening to the virtue and celebration of compassion. This class is a strong introduction to the Buddhist concept of awakened heart (often referred to as Bodhicitta.) Through contemplative methods for arousing compassion, we further develop kindness towards ourselves and others. We emphasize the joy and invigoration that comes from discipline.
The teachings of this aspect of warriorship are symbolized by the dignity of the Lion, which represents the qualities of cheerfulness, health and freedom from doubt.
There are five classes on Thursday evenings, beginning March 25.
The Four Immeasurables are:
May all sentient beings enjoy happiness and the root of happiness.
May they be free from suffering and the root of suffering.
May they not be separated from the great happiness devoid of suffering.
May they dwell in the great equanimity free from passion,aggression, and prejudice.
---
Program Discounts
We offer program discounts to make our programs available to anyone who wants participate. If the program price is an obstacle for you, please consider what you can afford, and offer as much of the program fee as you can.
What is the Patron Price?
Those who are able to offer more than the regular program price can select the patron price option. By selecting this option, your generosity is helping to cover the costs of those who may not be able to pay the full price of the program.
Payment Policy