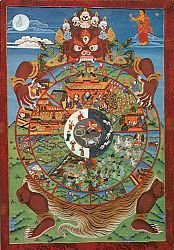 The Battle of Ego (Online)
with Alice Dan
This class introduces a buddhist perspective on how our minds operate, and our relationship to the world. Our constant search for security and certainty lead us to manipulate our experience, trying to control our world.
We will explore how to understand the materialism of this approach, as well as alternative ways to see ourselves and our society. Looking at different styles of samsaric ego can help us to break the vicious cycle of struggling with reality. As we see the battle of ego more clearly, we can glimpse the possibility of freedom from the materialistic outlook, relaxing into our authentic selves.
Alice Dan has been studying meditation and Buddhism for more than 20 years, and teaching since 2005. She was formerly a professor of health research at UIC.
Please register to receive the zoom link for this class.