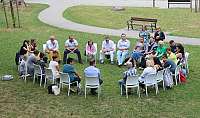 Shambhala Community Gathering ONLINE
We want to hear from you! If you have questions, comments, concerns, or suggestions regarding anything within the Shambhala community, please visit the link below to make a submission. We'll address the submissions during our meeting and use them to guide our discussion.
This community meeting will take place on Sunday, January 23rd at 4:00 PM. It is free and open to the public. Register below to receive the Zoom link.
CLICK HERE TO SUBMIT A TOPIC FOR DISCUSSION: https://shambhala.us3.list-manage.com/track/click?u=7944e1195d370341eb815ddfa&id=a9ac90cdfb&e=6a4558b9f4