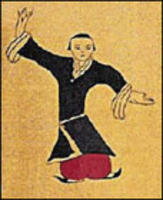 Creating Benchmarks for Your Qigong Practice
with Eva Wong
Benchmarks are invaluable tools for tracking progress in your qigong practice. They can also help us measure how qigong has repaired injuries, improved strength and flexibility, and enhanced relaxation in your body. In this program you will learn how to create a system of feedback to chart the development of health in your tendons, ligaments, joints, and spine. Having learned the basics of qigong in levels 1-5, it is time to use them to fine tune your practice and increase awareness of your body's physical abilities and vast energetic potential.
Prerequisite: Taoist Qigong Levels 1-5.
Eva Wong
is a 19th generation lineage carrier of the Primordial Limitless Gate School of Taoism. The student of Sun Di, she is also a 3rd generation lineage descendant in Wang Xiangzhai's Yiquan school of martial arts and Zhangshuan - standing qigong. She is an independent scholar who has written and translated many books on Taoism and related topics, including Nourishing The Essence of Life: The Outer, Inner, and Secret Teachings of Taoism and A Master Course in Feng Shui (published by Shambhala Publications). On behalf of her lineage, she offers a comprehensive program involving nine levels of qigong training that she started teaching in Chicago in 2007.