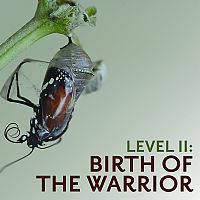 IN-PERSON Shambhala Training Level II: Birth of the Warrior
Description: Having experienced a taste of basic goodness, we want to go forward. Meditation practice allows us to observe how we create a cocoon of habits to mask our fear. We begin to appreciate that there is no fundamental obstacle to experiencing basic goodness.
Prerequisite: Students are required to have participated in Level 1: Ordinary Magic
Suggested Reading: Shambhala: The Sacred Path of the Warrior by Chögyam Trungpa, available in our West Loop bookstore.
---
Program Discounts
The remaining workshops of the Shambhala Training Series will take place on the following dates: Level II (October 28-29) and Level III (December 2-3). If you've already taken Level I, you can pay for Level II and III together for a packaged price of $300. If you choose this option, please do the following:
Visit the program page for Level II and and register. Select the payment option "Levels II & III: $300" or "Levels II & III Members: $225" (if you're a member). In the comments section of your registration, indicate that you're payment is for both Level II and Level III.

Register on this current page for Level III, entering $0 into the "Pay what you can" box. In the comments section, indicate that you registered and paid for Level II.
We also offer program discounts to make most of our programs available to anyone who wants participate. If the program price is an obstacle for you, please consider what you can afford, and offer as much of the program fee as you can.
---
What is the Patron Price?
Those who are able to offer more than the regular program price can select the patron price option. By selecting this option, your generosity is helping to cover the costs of those who may not be able to pay the full price of the program.