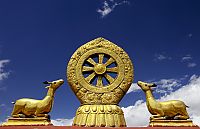 The First Turning of the Wheel of Dharma: Finding Peace and Clarity
with Alice Dan, Barbara Wolkowitz, David Stone
The practice and study of Buddhism always starts with working with oneself. Along with meditation, these teachings can help us understand our personal dilemmas and consider a new approach to unraveling them.
This is the first of three courses presenting a comprehensive review of the three "yanas" or vehicles of the Tibetan Buddhist path: Hinayana, Mahayana and Vajrayana. The second and third turnings of the wheel of dharma will be offered in successive years. Open to all levels: Newcomers as well as those with experience in meditation and Buddhism are welcome.
The format of once-monthly presentations, in person and online, will consist of meditation practice, lecture, discussion and small group dialogue. The classes will be supplemented by online study group meetings to support contemplation, practice and understanding.
Schedule of Teachings
Sunday, October 8, 2023, 1-4:30 pm: Introduction, overview and orientation (David Stone)
Sunday, November 19, 2023, 1-4:30 pm: Initial Teachings: Four Noble Truths (Barbara Wolkowitz)
Sunday, December 10, 2023, 1-4:30 pm: The Life of the Buddha and The Three Jewels (Alice Dan)
Sunday, January 21, 2024, 1-4:30 pm: The Abhidharma: Buddhist Psychology, the Five Skandhas (David Stone)
Sunday, February 18, 2024, 1-4:30 pm: Soso Tharpa: Individual Liberation; Taking Refuge (Barbara Wolkowitz)
Sunday, March 17, 2024, 1-4:30 pm: The Three Trainings: Sila, Samadhi, Prajña--ethical discipline, meditation, knowledge/insight (Alice Dan)
Note: Study group meetings in between classes will be arranged for convenience of students.
Tuition: Full Series (6 months) Regular: $175; Member: $125. Per Class: First class $25; following classes $35 each. Note: work-study, scholarships are available, as is our Generosity