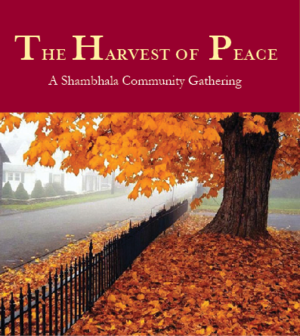 Harvest of Peace 2023
We gather this year to practice together some of our favorite opening chants and the Shambhala Sadhana, to welcome new members and present a "Health of Shambhala Chicago" update. We'll enjoy lunch together and watch a broadcast from Shambhala Global Services.
Shambhala Sadhana: Discovering the Sun of Basic Goodness is a confident, resounding proclamation of the view at the heart of the Shambhala teachings:
All beings – you, me, and our society – are basically good.
The term sadhana may be translated as "a means for accomplishing something." Language is powerful. Hearing, seeing and reciting the sadhana text is a tool to help us remember and nourish our inherent qualities of wisdom and compassion.
Everyone is welcome to join in this community practice.
Harvest of Peace 2023 Schedule:
8:30 am Doors open, light breakfast, coffee & tea
9:00 Opening Chants, meditation
Shambhala Sadhana
11:00 Welcome New Members, report on how Shambhala Chicago is doing
12:30 Potluck Lunch (please bring something to share)
2:00 pm Broadcast from Shambhala Online