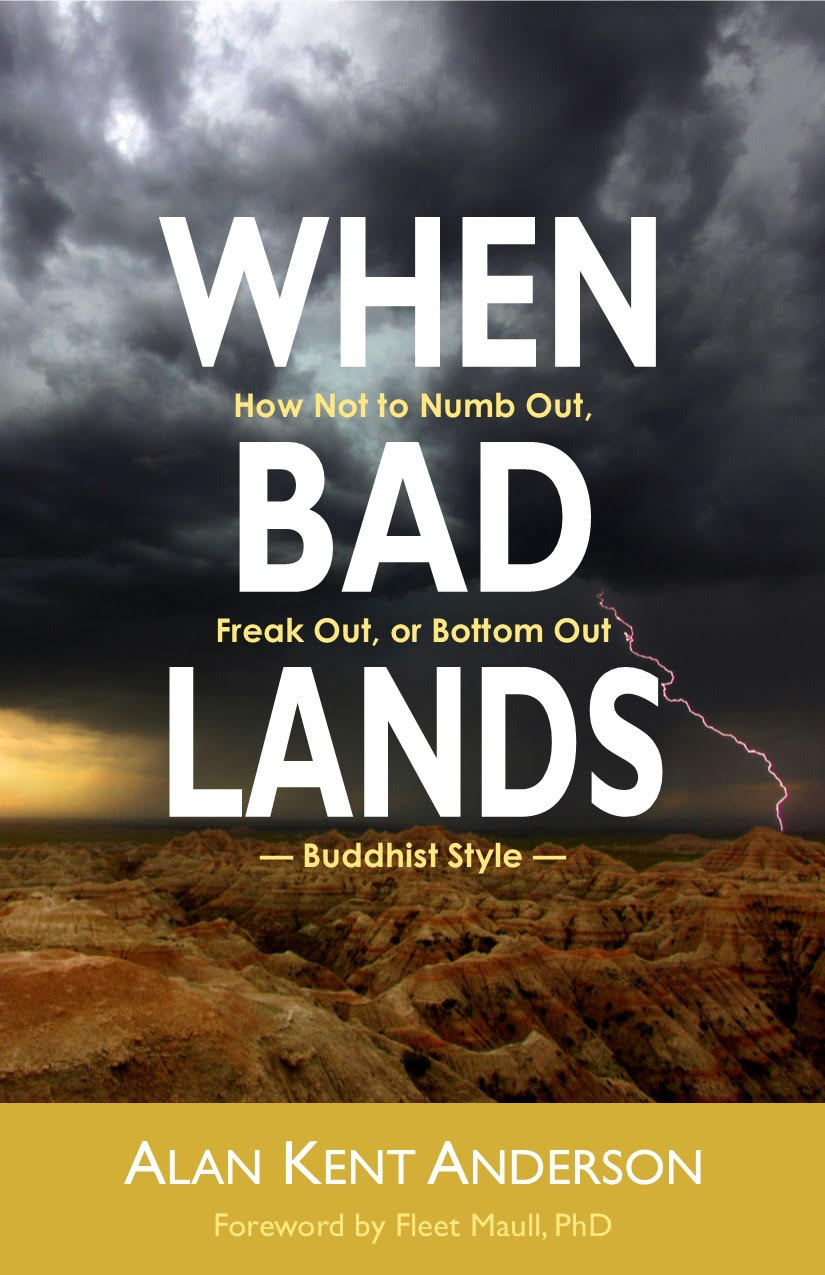 When Bad Lands: How Not to Numb Out, Freak Out, or Bottom Out—Buddhist Style
with Alan Anderson
"Spiritual practice doesn't mean improving ourselves; it means facing ourselves." Alan Anderson
Alan Anderson has a tip he wants to pass along. He wants to say that mindfulness/meditation practice is truly powerful; it's one of our most potent treasures…but it is not enough. It is a tremendous tool to unlock our confusion, but when we are in the midst of intense upheaval and loss, it is unlikely that our spiritual toolkit will prove sufficient to the task. All our practice in low stress environments does not prepare us for high stress environments.
Alan Anderson's new book, When Bad Lands: How to Numb Out, Freak Out, or Bottom Out--Buddhist Style, is about ownership, self-deception, and how to include in our path the unspoken, powerful elements of blame and shame that wreak havoc in our lives.
In this half-day program, Alan Anderson will guide us through some confusing pieces of our puzzle—the ones we generally don't choose to acknowledge despite the fact that they show up so readily and brilliantly in all our day-to-day experience. We are going to rewire our approach to meditation practice. We will work through the view, practice, and action of The Seven Skills that are presented in the text—skills that Alan uncovered along his journey. We will also dive into the many teachings on overcoming self-deception presented by Tibetan Buddhist meditation master Chögyam Trungpa Rinpoche. We will cook our recipe for genuine transformation that will give us the strength and creativity we need to become fearless, self-aware individuals who embrace the hard joy of overcoming self-delusion.
ABOUT When Bad Lands:
When Bad Lands is about going through great difficulties, which often take a very courageous examination of the hard-wired karma that has been lodged in us, perhaps for decades. Without this deep dive, the result can be spiritual bypassing. As Trungpa Rinpoche said, "It is much easier to appear holy than to be sane." He pointed out the cocoon of self-deception again and again.
When Bad Lands describes a powerful, though painful, journey, through which Alan discovered the Seven Skills that he shares with us. This authentic path of having to face oneself became a unique guide for helping people work through truly difficult times.
PRAISE FOR When Bad Lands:
Practitioners of the discipline soon discover that meditation is often more demanding than relaxing; more sobering than it is 'blissful' and more noble than it is productive. This insightful and playful text explains how mindfulness-awareness meditation introduces the possibility of living a fearlessly compassionate life. -- MICHAEL CARROLL, author of "Awake at Work"
With equal parts pragmatism, hard work and humor, When Bad Lands is the road map you want in your pocket whether you are revisiting your past trials or ramping up for the journey ahead. -- JANE KACZMAREK, screen and stage actor, star of "Malcolm in the Middle"
A brilliant job of compiling wisdom both ancient and modern, while offering new insights and practical techniques to re­alize the miracle of basic goodness. The Seven Skills presented in When Bad Lands are crucial to sanity and clarity. -- ARNO MICHAELIS IV, author of "My Life After Hate"
Mindfulness is absolutely necessary, but not at all sufficient. The core of the path is facing our fears, accepting our frailties—and others'—with an open heart, and allowing our innate wisdom to be revealed. -- ACHARYA RICHARD JOHN
BIO
Alan Anderson was born in Milwaukee, WI, and began his career as a musician, playing jazz professionally for 20 years, as well as touring and recording with Paul Cebar. He then turned his sights towards education, teaching music in Milwaukee Public Schools.
He currently teaches a combination of mindfulness and music in the schools, and is the founder of A.MAP—Arts and Mindfulness for Academic Progress. He teaches this program through Reset-MindBody and [email protected]
He has been a student and instructor at the Milwaukee Shambhala Center for over 30 years, and is the co-founder of Windhorse Retreat Center.