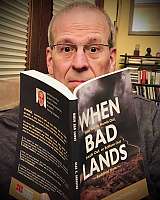 When Bad Lands: The Hard & Brilliant Path of Waking Up to the World As-It-Is
with Alan Anderson
Meditation practice is truly powerful; it's one of our most potent treasures…but it is not enough. It's a tremendous tool to unlock our confusion, but when we're reeling from painful events, our mindfulness-awareness strategies tend to get B-listed very quickly. The result is that habitual patterns rule.
This class is based on Alan's book, When Bad Lands: How Not to Numb Out, Freak Out, or Bottom Out--Buddhist Style. It is about ownership, overcoming self-deception, and how to include in our path unspoken, powerful elements like blame and shame that wreak havoc in our lives. We think we need to disconnect from their influence, but in truth, they are a gold mine. Why? Because the more we fearlessly connect with who and how we really are, the more likely we are to find ourselves on path to liberation rather than the path to spiritual materialism.
Join us for meditation, discussion, and an exploration of the book's key themes. Included will be a look into the provocative teachings on overcoming self-deception presented by Tibetan Buddhist meditation master Chögyam Trungpa Rinpoche. We will then dive into the view, practice, and action of The Seven Skills which are the book's practical applications for changing our habitual patterns when things fall apart. These Seven Skills will show us that pain and difficulty are not to be negotiated around or avoided--rather, they are the precious fuel that wakes us up.
This program is both in person and online. Register for Zoom link.


About the Teacher
Alan Anderson is an author, educator, and professional musician. He has also been a student and teacher of meditation and mindfulness for over 30 years. He taught in the Milwaukee public schools for 20 years and is also the Founder of A.MAP—Arts and Mindfulness for Academic Progress which he taught through Reset Mind/Body and [email protected], teaching mindfulness and focusing skills to our public school children. Prior to teaching, he was a professional jazz musician for 20 years and also performed and recorded with Paul Cebar, playing American roots music. He is a former Shastri in the Shambhala tradition, and is also the Co-founder of Windhorse Retreat Center in Plymouth WI. You can see more at his website, alankentanderson.com.
About the Book
When Bad Lands: How Not to Numb Out, Freak Out, or Bottom Out--Buddhist Style is the winner of the 2019 Nautilus Gold Prize Award in the category: Religion/Spirituality of Eastern Thought. It was also the 2020 Next Generation Indie Book Awards Silver Finalist.