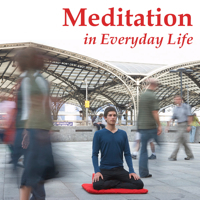 Meditation in Everyday Life - In Person Only
Meditation in Everyday Life presents mindfulness-awareness meditation and ways that meditation practice can improve the quality of our daily life. Meditation is an opportunity to rest in what we already are—basic goodness, natural peace and clarity. However, for many of us, the experience of working with our minds is very difficult and meditation is far from peaceful. Self-aggression, judgment, and harshness often arise. The Shambhala approach to meditation emphasizes tremendous gentleness as a way to work with this self-aggression. Friendliness to oneself is key. We can learn to develop friendship with our mind, skill in how to work with speed and difficulty, and a sense of humor.
The journey begins by acknowledging the agitation of the discursive, wild mind. The journey continues by slowly allowing that mind to relax within itself; we let go of struggling with ourselves. The way to become familiar with such relaxation is the simple, regular practice of sitting meditation. Of course, this may prove difficult at times. We will sometimes resist practice altogether. This is part of the path.
"Our life is an endless journey; it is like a broad highway that extends infinitely into the distance. The practice of meditation provides a vehicle to travel on that road. Our journey consists of constant ups and downs, hope and fear, but it is a good journey. The practice of meditation allows us to experience all the textures of the roadway, which is what the journey is all about. Through the practice of meditation, we begin to find that within ourselves, there is no fundamental complaint about anything or anyone at all." —Chögyam Trungpa, Shambhala: The Sacred Path of the Warrior