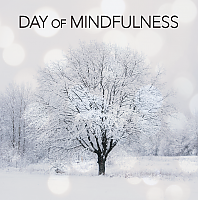 Day of Mindfulness
with Ann Shillinglaw & Barbara Wolkowitz
The weeks between Thanksgiving and Xmas can be frazzled, but also an inspiration to practice mindfulness in meditation and carry that into daily life. Join us for a Day of Mindfulness. Yes, in person at the Center!
The day will include a variety of mindfulness practices to bring body, breathing, and mind together and open our senses to the world. These practices include sitting meditation, as well as activities to awaken standing, moving, and sensory awareness. We will also offer loving kindness meditation to open our hearts to ourselves, others, and our communities.
This is not a silent retreat but will include short periods of sitting and walking in silence. Guidance will be provided for all activities.
We will break for an hour at lunch. You are free to bring your own lunch or explore options in the West Loop neighborhood just outside the Center's doors.
You are also welcome to attend the morning only. Please indicate that option when you register.