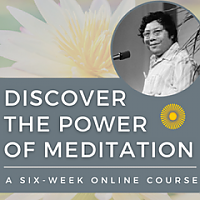 Meditation: The Way of the Buddha (Six-Week Online Course)
Although decades old, Chögyam Trungpa Rinpoche's presentations retain the same freshness and dynamism as when they were first brought from Tibet to the West, and are a reminder of his incomparable mastery at communicating Buddhist teachings to a Western audience. These short talks - from mindfulness practice, to awareness practice, to the realization of emptiness - will be supported by further commentary and facilitated discussions by some of today's leading teachers of Buddhism in the West, many of whom were actually present during these talks in 1974, including:
Pema Chödron, Dale Asrael, Ashley Dinges, June Crow, Lödro Dorje, Gaylon Ferguson, Arawana Hayashi, Marty Janowitz, Larry Mermelstein, and Judith Simmer-Brown.
The format of most live sessions will include guided meditation instruction, a brief video of Chöogyam Trungpa Rinpoche teaching – with further commentary by the presenters, and discussion groups with question and answer periods. The pre-recorded videos that participants can watch "on demand" will expand on participant's understanding of Trungpa Rinpoche's teachings and life.
PLEASE NOTE: This program is online only. If you miss any sessions, you can catch up with the recordings afterwards. This program is in addition to Shambhala Chicago's in-person meditation programs. If you're instead looking for in-person opportunities, browse the offerings on our Programs page.
FOR MORE INFO AND TO REGISTER, VISIT: https://shambhalaonline.org/calendar-details/?id=486094&utm_source=Chicago